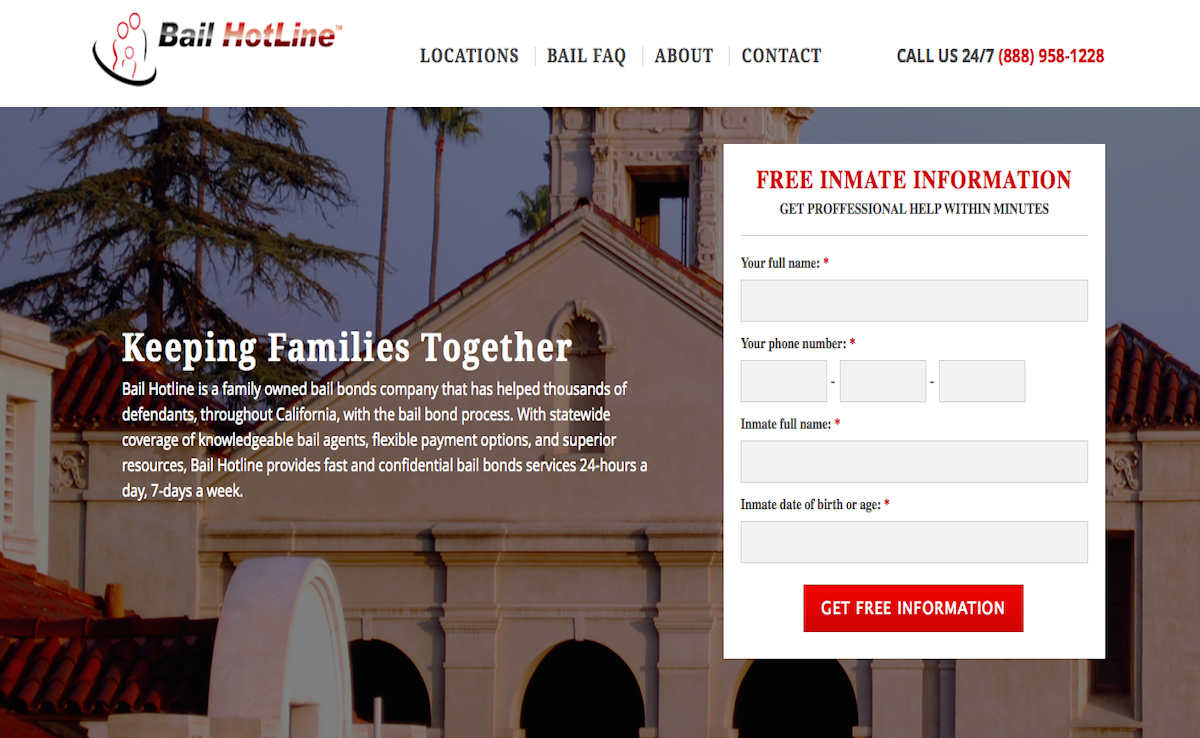 California's rapidly-rising bail bonds company, Bail Hotline, announces its new website—the latest component in its robust service offering. 
Riverside, California, June 29, 2014 – Bail Hotline is the fastest growing bail bonds company in all of California, with a robust organizational structure that allows it to serve an ever-expanding population of clients—thousands of people and families every month. Already the company has 32 locations and more than 300 employees, plus an around-the-clock service line. Now, Bail Hotline has added another asset to this robust service structure—a newly launched website, which boasts a sleek and intuitive design and ample information for clients. The new site has been launched at www.mybailhotline.com.
"Our sophisticated organizational structure is what allows us to serve so many clients so well," remarks Daniel McGuire, the Chief Executive Officer of Bail Hotline. "Our team members are committed to providing quick, responsive service and high levels of integrity to the families we serve. With our new website, we hope to serve them better than ever before."
The new Bail Hotline website boasts a design that displays information succinctly and intuitively. The site also makes use of geo-location technology, which makes it easy for visitors to gather information about the closest jails and prisons and the nearest Bail Hotline locations. "Our primary goal is simply to provide top-notch information to our clients, as quickly as possible," affirms McGuire.
The new website joins an impressive lineup of services offered by Bail Hotline—many of them available for free. For example, the company offers an Inmate Information Center, available 24/7 and free of charge. This allows families to quickly and easily gain information about where their loved ones have been detained, the charges, the bail amount that has been set, and more.
The company also provides a free Bail Information Center, which provides family members with the resources they need to get loved ones out of jail quickly.
"Our team has long had the conviction needed to help families during their time of need," McGuire comments. "Now, we have the full array of resources to match. We are excited about the possibilities afforded by this new website."
More information can be found online at www.mybailhotline.com.
ABOUT BAIL HOTLINE BAIL BONDS
Bail Hotline is the fastest growing bail bonds company in California, with 32 offices across the state and a staff of more than 300 employees. The company offers a number of free resources for families seeking to get their loved ones released from jail, including an Inmate Information Hotline and a Bail Information Center. The company is committed to offering help and integrity to families during their time of need. More information is available at www.mybailhotline.com.