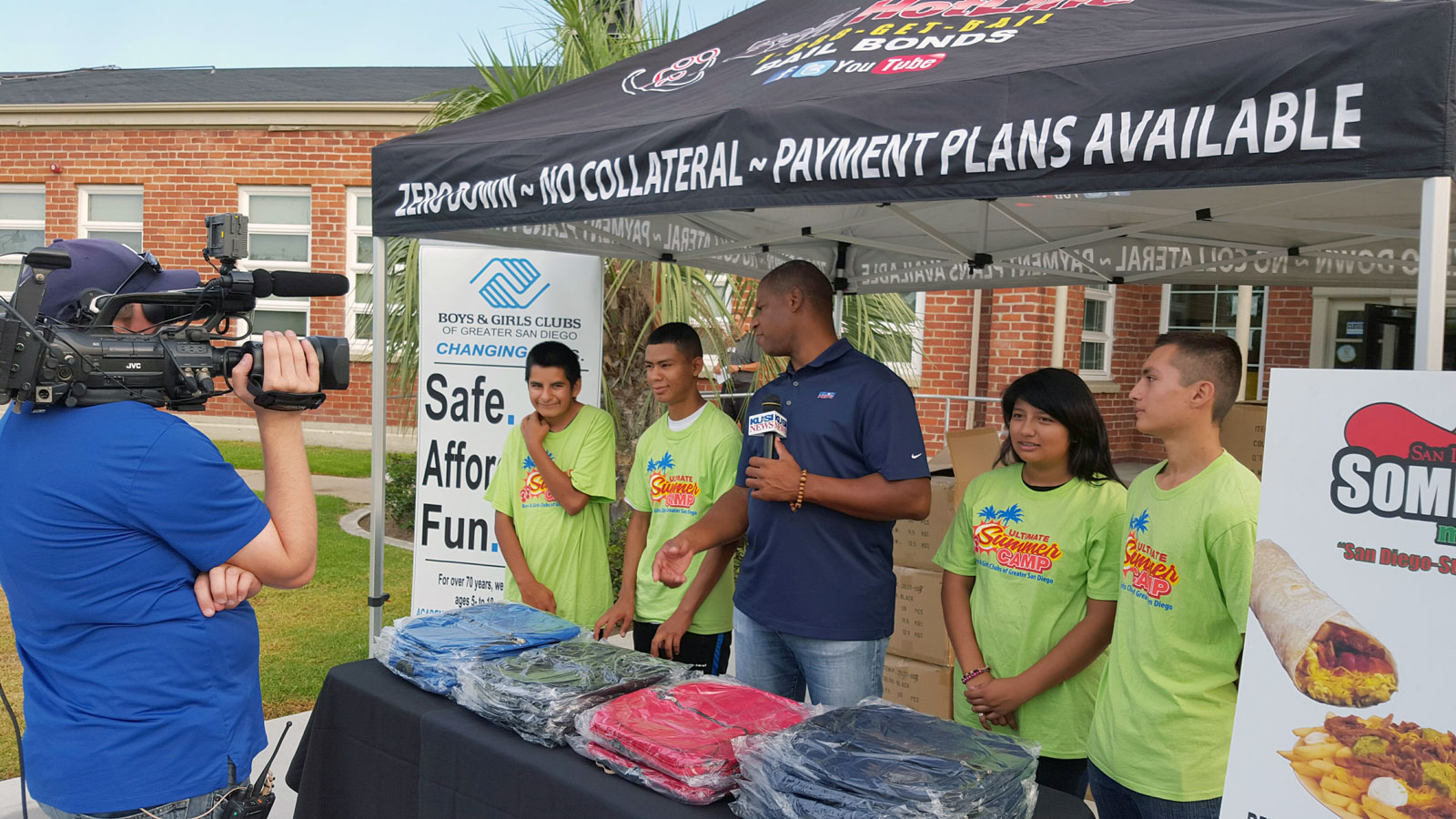 Bail Hotline Bail Bonds to Host Annual 1,000 Backpack Giveaway for Students at Boys & Girls Club in Logan Heights Since 2010, the California Company has hosted back-to-school backpack giveaways in San Diego and will be joined by Sombrero Mexican Food with 500 free burritos at this year's flash event
San Diego, Calif. (September 9th, 2015)–Bail Hotline Bail Bonds (www.mybailhotline.com), the premier company servicing all of California with comprehensive bail bonds services and assistance, will host its back-to-school backpack giveaway of 1,000 backpacks at the William J. Oaks Branch Boys & Girls Club (2930 Marcy Ave.) for students in nearby elementary schools on Tuesday, September 9th, 2015.
After successful giveaways in San Diego and neighboring counties since 2010, team members from Bail Hotline will gather at the Boys & Girls Club to distribute the backpacks and free mini burritos from Sombrero Mexican Food (www.sombreromex.com) at noon, in accordance with nearby schools' scheduled dismissal times. Students at Burbank Elementary School, Rodriguez Elementary School and Logan Elementary School have been notified of the giveaway, which will be handled on a first-come, first-serve basis.
"It's an honor for Bail Hotline to be welcomed by the William J. Oaks Boys & Girls Club again this year and provide these students with brand new backpacks for a successful 2015 – 2016 school year," said Marco McGuire, CEO of Bail Hotline Bail Bonds. "We've seen the impact new school supplies can have on students academics and overall productivity, so we're proud to be a positive driver of that, year after year."
During past years' giveaways in San Diego, Riverside, Los Angeles and San Bernardino, all 1,000 backpacks were gone within less than an hour.
"It's a great gesture that Bail Hotline Bail Bonds continues to carry out, donating backpacks to assist our youth with their school endeavors," said William J. Oakes Branch Manager Ricardo Sandoval. "It shows how the community cares about our youth, which is what our organization prides itself in."
The William J. Oaks Branch of the Boys & Girls Club is an age-appropriate place of physical and emotional safety and stability for its club members, where they have structure and clearly defined boundaries. The youth that are part of its organization are able to build strong, positive connections with adult role models and their peers.
Bail Hotline Bail Bonds is actively involved in the community, carrying out monthly community service efforts and outreach events.
To find a Bail Hotline Bail Bonds location nearest you, including at Riverside, visit www.myBailHotline.com or call 866-974-7360 for immediate assistance. We have offices everywhere from Bakersfield to Los Angeles and More.